Posted by
Art Teacher
on Jul 18, 2015 in
Main
|
Comments Off

on SUMMER ANNOUNCEMENTS!!!!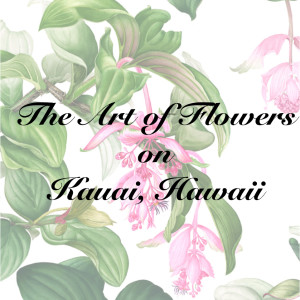 ANNOUNCING
Last Call for Hawaii Workshop
plus announcing
Fall Classes at The Marie Selby Botanical Gardens
~~~~~~~~~~~
Academy of Botanical Artsm
Classical Renaissance Instruction in the French Court Tradition
Olivia Marie Braida-Chiusano
Founder/Artist/Author/Instructor
~~~~~~~
Academy in Kauai, Hawaii
THE ART OF FLOWERS – 5-DAY BOTANICAL ART WORKSHOP
Monday to Friday, August 3 to 7, 2015 –
9:00am to 3:00pm
To Register, Call 941-953-9999 or
visit:  http://www.omartdesigns.com/product/Hawaii2015.html
Drawing and/or Painting in the Renaissance Tradition of French Court Masters
Princeville Community Center,
4334 Emmalani Drive,
Princeville, Hawaii 96722
Tuition: $875 per person, includes Slide Presentation of "A Brief History of Botanical Art"  Plant Subject, Paper Supplies, Pencils, Erasers and Course Syllabus; Daily refreshments available during workshop; One complimentary group dinner during the study week. A FREE copy of botanical art publication from renowned Hunt Museum by James White & Lugene Bruno. To paint, please bring your watercolor paints and brushes! Watercolor Paper is available. TUITION DOES NOT INCLUDE HOTEL OR TRAVEL.
~~~~~~~~~~~~~~~~~~~~~
Fall Classes Offered at Marie Selby Botanical Gardens 
Oct. 12, 13 &14 – Noon to 5pm
3-Day Botanical Art Workshop – Introduction to Pen & Ink for Botanical Portraits.
Join the Academy and learn an easy and carefree way of drawing plant portraits with the potential to ex- pand your creative genius. Let this Pen & Ink workshop show you both the serious and fun side of Pen & Ink drawing. Create a beautiful work of fine art, or produce a scientific piece of iconography – illustration with plant dissections. Perfect for students of all levels. Instructor will provide Subject, Syllabus, Ink Pens, Paper, Boards.$375 Non Member and $350 Members, plus a Materials Fee of $30 paid to instructor in class.  To register, call Marilynn Shelley, 941-366-5731  x 239
Nov. 9, 10 & 11 – Noon to 5pm
3-Day Botanical Art Workshop – Drawing and/or Painting in the French Court Masters Slide Presentation of "A Brief History of Botanical Art
Students enthralled by the discovery of detail will find Botanical Art an amazing art genre and a huge boon to executing better drawn plant images. Students will concentrate on one subject to develop drawing and or watercolor skills in the classical tradition. Learn the pencil and watercolor techniques in the style of the French Court. Understand the importance of Gesture, Contour, and Key Element Exercises and explore the Five Elements of Geometric Form. No experience is necessary. Students who wish to watercolor are welcome to bring their paints and brushes. Instructor will provide Subject, Syllabus, Drawing Materials, Paper, Boards. $375 Non Member and $350 Members, plus a Materials Fee of $30 paid to instructor in class.  To register, call Marilynn Shelley, 941-366-5731  x 239
Dec. 12 – 10am to 5pm –
1-Day Botanical Art Workshop – Replicating the Botanical Art of the French Court Master –
Beginners are welcome to attend and learn the easy ten step method to drawing. Advanced students will work with Master Botanical Art pieces, replicate them, learn their compositional secrets, and apply their news skills in either graphite, colored pencil, or watercolor. Students who wish to work with colored pencils or watercolor are welcome to bring their own colored pencils, paints and brushes. Instructor will provide Subject, Syllabus, Drawing Materials, Paper, Boards. $120 Non Member, $95 members, plus a Materials Fee of $25 paid to instructor in class.    To register, call Marilynn Shelley, 941-366-5731  x 239