Posted by
Art Teacher
on Aug 31, 2015 in
Main
|
4 comments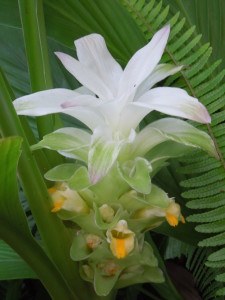 Aloha Dear Friends:
Kauai, known as the Garden Island in Hawaii's vast chain of beautiful islands, was the home to our recent workshop "Art of Flowers." It was quite spectacular to see the mountains, the sea, the flowers, the trees, and, yes, the chickens. Oh boy, no chance to oversleep on this island. Thefriendly call of our fine feathered friends woke us at 4:30am each day. No excuse not to start the day in meditation, then some fresh fruits off the garden trees of our hosts. Their gracious hosting and beautiful home with its glorious gardens, provided a lifetime of sweet memories. With just a short walk to Anini Beach, we soaked up the warmth of friendship, sea breezes, sun, and renewed energy.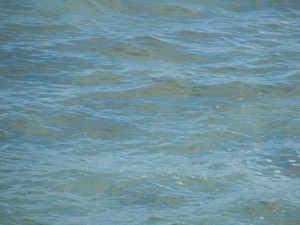 We thought you would love to see some of the sites we enjoyed during our stay. So, put on your suntan lotion and lets go for a walk through Hawaii.
Mountain Range in Kauai is quite vast and spectacular –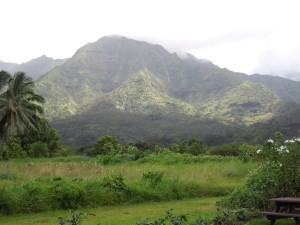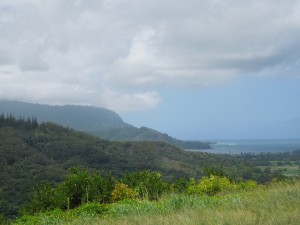 All of us were staying in and around Princeville.
Anini Beach is on the North of the Island Kauai and runs along the edge of Princeville.
The water as it splashed against the sand was the color of clear, cerulean blue.
Here is a view of the ocean on the North Short. The lighthouse is in the distance.
Aleurites moluccanus  (L.) Wild. 1805 – Common Name: Candlenut
Hawaiians refer to this plant as "Kukui".
The Kukui nut is often used in cooking. It is used to make a thick sauce that is eaten with vegetables and rice. In ancient Hawaii, kukui nuts were burned to provide light. The nuts were strung in a row on a palm leaf midrib, lit one end, and burned one by one every 15 minutes or so. This led to their use as a measure of time. One could instruct someone to return home before the second nut burned out. Hawaiians also extracted the oil from the nut and burned it in a stone oil lamp called a kukui hele po (light, darkness goes) with a wick made of kapa cloth. (Excerpt from Canoe Plants of Ancient Hawaii. http://canoeplants.com/kukui.html)
Here is the nut of the fruit that the Hawaiians turn into necklaces among other things.          
Princeville Community Center –
Home of our workshop.
Students at work
Below, Bobby showing his sketch of the
Podospadix humboldtii Raf. 1838 – Common Name: Anthurium 
Students gathered to view a video of one of my demonstrations that we posted on the TV….
We even welcomed a young student who joined us with her mother for one day.  The 7-year old drew a Heliconia and a Hibiscus in one day ~ and with color!!!!!  Bravo

Students came from Hawaii, Mexico, California.  Here they are in a group photo.
What sweethearts you all are!!!!
Garcinia mangostana L. 1753 – Common Name: Mangosteens:
What a discovery! We found these for sale at the Saturday Outdoor Market. We grabbed a bag full, together with tiny mangoes and used them first as drawing subjects for spatial arrangement.
 Then we took them home to eat for breakfast!  You eat only the white segments.
This unique fruit is adorable, beautiful, and very tasty.
———————————-
---
Look what is growing on the property of our friends home – Bobby &Maria
Zingiber zerumbet (L.) Sm. 1806 – Common Name: Shampoo Ginger
-This is used by folks on the island to wash and rinse their hair. Beautiful!!!
---
Passiflora edulis Sims 1818 – Common Name: Passion Fruit
Hawaiians call these fruits:  Lilikoi.  We didn't have to pick them. They fell gently from their vines ripe to the ground. Yum! They were the basis of my daily "fruit smoothies" that included protein powder, papaya, pineapple, and mango.  So delicious.
---
Gossypium hirsutum L. 1763 – Common Name: American Cotton
Heliconia psittacorum L.f.1782  – Common Name: Parrot Flower
---
Heliconia aurantiaca Ghiesbr. ex Lem. 1885  – Common Name: Guldheliconia

And there were several more species of Heliconia ……
---
Etlingera elatior (Jack) R.M. Sm. 1986 – Common Name: Torch-Ginger
---
Tuber – Sorry, as of this posting I don't have the Latin name for this plant.  If you do, please let me know.  The leaves are said to resemble the shape of the island of Kauai. The root is made into many food dishes and made a great veggie burger! This plant is grown extensively on the island and appears like rice paddies in large farms.
---
Musa acuminata Colla 1820 – Common Name: Banana Tree
---
Carica papaya L. 1753 – Common Name: Papaya Tree
---
Hibiscus rosa-sinensis L. 1753 – Common Name: White Hawaiian Hibiscus
---
Hylocereus undatus (Haw.) Britton & Rose 1918 – Common Name: Dragon Fruit
---
Plumeria rubra L. 1753 – Common Name: Frangipani – several species offering different colors
Well, we hope you enjoyed your vicarious visit. Perhaps next time you will be able to join us on the island and experience all of this and more on your own.
Mahalo and God Bless
OM